Svirzh castle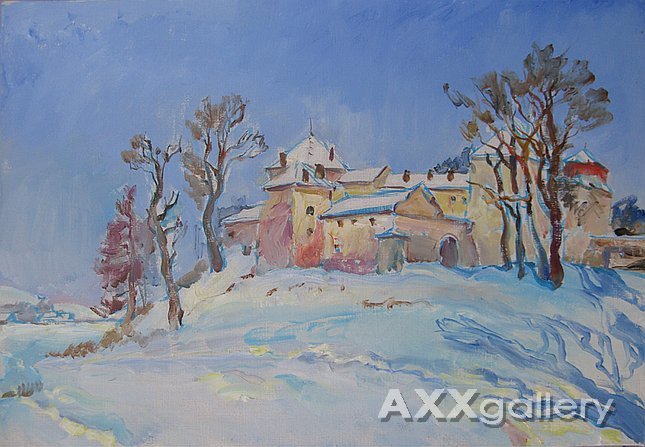 Andrey Kutsachenko
Svirzh castle
Ширина см: 65
Высота см: 45
Классические направления: Реализм
Техника: Масло
Год написания: 2011
Совет искусствоведа: Нет
Наличие рамы: Нет
Основа: Холст
Жанр: Пейзаж
About the artist
Andrew Kutsachenko was born in Kiev in 1982
He graduated from the State art high school to them. TG Shevchenko (DHSSH)
Member of the National Union of Artists of Ukraine (National Union of Artists).
He graduated from the National Academy of Fine Arts and Architecture (Naomi), workshop of easel painting under the guidance Lopuhova AM Lives and works in Kiev.
Works are:
- Ministry of Defense of Ukraine (Kiev)
- The National Historical and Cultural Reserve "Sophia of Kyiv"
- The National Historical and Cultural Reserve "Getmanska capital" (Buchanan)
- Kirovohrad Art Museum
- Berdyansk Art Museum im.Brodskogo
- IJ Museum Franco (p. Nahuyevychi)
- The Museum and Studio of Ivan Kavaleridze (Kiev)
- National Museum of Taras Shevchenko (Kiev)
Participant of numerous exhibitions in Ukraine and abroad.
More than 7 solo exhibitions in Ukraine
- UKRAINIAN ART WEEK, National Union of Artists, Kiev, Ukraine (3rd place in the category of the best scenery)
- Participant of the exhibition of Ukrainian artists in Georgia (Tbilisi) in the framework of «ProCreditArt» project
- Participation in the international project, dedicated to the Archangel Michael, "Kiev-Rome", the gallery, with the support of the Ministry of Culture of Ukraine, the gallery "Ra", UNESCO.
- In 2005 was awarded the prize at the Kiev creative youth forum, gallery "Ra" (together with the KGA), Kiev, Ukraine.